Go to Grad School/Start your Career
This is what most of your peers are doing. Grad school. Med school. Law school. Entry-level job. Etc.

That's the path you're thinking of taking too.

A gap year? You don't have the time.

You don't have the money.

And, you don't have the luxury.

I Can't Do A Gap Year
Take a Gap Year
Words can be deceiving. A gap year is more of a bridge than a gap, a transition between two phases of your life.

It's not a waste of time; it's an investment.

It's a well-deserved semicolon after nearly two decades of schooling.

It's a year that is (and should be) dedicated to YOU and YOUR personal development.

I Deserve A Gap Year
Why Choose A Gap Year?
Again, a gap year is an investment towards your future.
School is a bubble. And, you've been living in this bubble for most of your life. A gap year allows you time to discover who you are outside the context of the education system. Growing up, people tell you not to make rash decisions. And, yet, everyone seems so keen to scurry you along to the next stage in life, whether it's grad school or getting a job.
A gap year is the epitome of taking time to reflect on your next steps in life.
You know how sometimes you're stuck, whether it's on a Calculus problem, your English Lit essay, or what you should buy your mother for Christmas, and the best thing you can do in that moment is not think about that problem? Then, while walking your dog, taking a shower, or making crème brûlée, the solution suddenly reveals itself.
Well, the gap year is the equivalent of that for your life.
A gap year allows you to take a step back from your life and get a bit of perspective of what you've done so far and what you'd like to do in the future. Distance gives you the space to see the bigger picture.
Other Reasons to Do A Gap Year...
Must… Travel!! The wanderlust is real!
Getting in touch with your Irish heritage and meeting your Irish cousins.
Work in Dublin. Save money. Backpack Europe!
Meet foreign people.
Those cute fluffy SHEEEEEEEP!
Experience Life in Ireland...
Brought to you by the Working Holiday Authorization
You're sold on a gap year. OK. But don't you need a visa for Ireland?
Indeed. Certain citizens of the USA and Canada are eligible for the working holiday visa. The rules are as follows:
USA citizens: Full-time university students or recent graduates (those who've graduated within the last 12 months) are eligible to apply for the working holiday visa to work and travel in Ireland for up to 12 months.
Canadian citizens: Individuals, aged 18-35, are eligible for a 2-year working holiday visa. This visa allows young Canadians to travel and work in Ireland, or to progress their chosen careers through employment in Ireland that is related to their degree and/or professional experience.
The best thing about the working holiday visa is that it gives you the ability to make money. That means, unlike many other programs, you won't end the year dead broke with all the money you spent out of pocket.
On the working end, Dublin is essentially your oyster!
Many tech, financial and global organizations have offices here. And we can't forget to mention our thriving tourism and hospitality industry. These are some possible gigs:
Freelance Designer (graphic, web, product).
Web Developer.
Business Administrator.
Floor staff at a pub or restaurant.
Barista at a coffee shop.
Contract work at an employment agency.
Retail at a department store.
There are plenty of opportunities in Dublin beyond this list, we just don't have the space to write them all!
Currently, those with skills/experience in accountancy, cloud computing, fintech, data analytics, business, marketing, programming, web architecture, and software development are in high demand.
Did you know 100% of our gap year Stinters have been offered a job within one month of their arrival in Ireland- Cool right!?
Stint partners with various companies in Dublin which means that you can hit the ground running on the job front. We will help ensure you're 100% prepared to find the right job whilst also offering support with all the logistics i.e. bank account, social number, and tax.
And just like Stint, our partners understand the gap year experience.
Examples of companies our Stinters have worked in are KPMG, Twitter, Microsoft, and Roomex. Whilst others have opted to work in local pubs, restaurants, and businesses. Basically, there is something for everyone!
Note: On the pub/cafe/restaurant end of things, you'll be looking at some €9.55/hr (minimum wage). On the admin end of the spectrum, you can expect something around €11- 13/hr.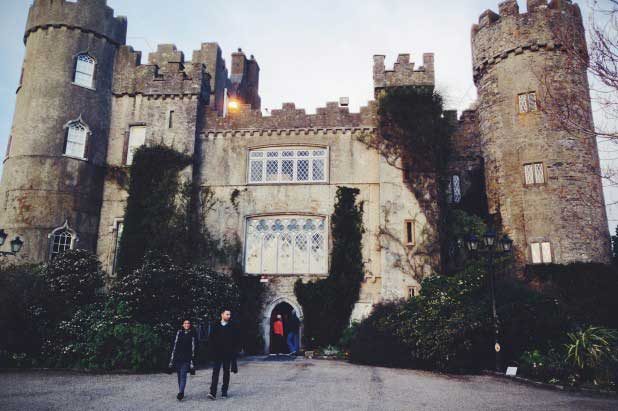 The Glam Bits
Let's be straight. A year abroad is pretty awesome. You're in another country! How cool is that?
So, don't forget the second part of the working holiday: the holiday!
The gap year gives you the chance to live in a foreign city. You'll get a chance to live as a local and experience Ireland through the eyes of someone who lives here (that someone being you).
While you're living in Ireland, you might find yourself in these situations…
Standing at the edge of the 400-ft tall Cliffs of Moher with your mouth open, body frozen in awe.

Your hands a-clappin' and feet a-tappin' in an old Irish pub at a trad music session.

Sitting at the edge of the pier, a fresh order of fish and chips in hand, gazing out at the sun setting on the horizon.

Boarding a plane, with dirt-cheap RyanAir flights, ready to fly off to experience another country. Romantic Paris? Alternative Berlin? Fairytale-like Prague? The world (or most of Europe, rather) is within your grasp!
A few tips: Breathe. Put your smartphone away. (Snapchat can wait. Ok, maybe whip it out every now and again to make your friends back home super jealous. Just remember, moderation, folks.)
You'll want to enjoy these moments with all your senses. Trust us, you won't regret it.
The New You
After your stint in Ireland, you'll be different. No, you won't emerge from your experience with superpowers. (Well, you might. We're not making any guarantees though.)
The thing is, you'll have faced many challenges on your year abroad. It's not just a year of adventures. Those moments of excitement, awe, and pure adrenaline. They'll be mixed in with other things like working, paying bills, getting taxed, and other "life stuff."
At points, you might deal with various aspects of culture shock such as homesickness and loneliness. That's OK. It's part of the "culture shock" part of an experience abroad. And, to be honest, it's also part of the "culture shock" of entering the "real world."
The important thing is to recognize that you're not alone in this adjustment. There are your friends and family back home. There are your fellow Stinters- visit our YouTube channel to hear some pretty awesome Stinter Stories
And, there's the Stint Team. We've all lived abroad at some point in our lives and we understand how nerve-wracking an experience abroad can be. Our #1 priority is to provide the support you need! (Basically, we got your back!)
At the end of your gap year, you will come out with an edge. You'll emerge from your experience a tad bit wiser, having acquired a new lens from which to see the world and a combination of hard skills and soft skills to face the "real world" head on, whether you return to school or jump into a career.
Definitely interested?
Take the First Step. (Click on it, rather.)
The First Step